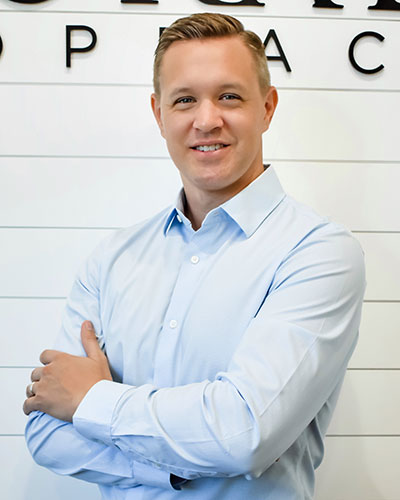 Meet Dr. Gavin McCutcheon
Dr. Gavin McCutcheon is originally from Ithaca, NY. He uses a patient centered approach to healthcare with a focus on the needs and goals of the individual.
Academic Career
His passion for the chiropractic profession began while he was an undergraduate at the University at Buffalo. While completing an internship with the strength and conditioning team he was exposed to the opportunities the chiropractic profession provided outside of the traditional medical model.
He earned his Bachelor of Science degree in Exercise Science from the University at Buffalo and his Doctor of Chiropractic degree from Palmer College of Chiropractic in Florida. Upon completing his clinical internship in New York City, he moved to Jacksonville to begin practice.
Other Accreditations
Dr. McCutcheon is a member of the Florida Chiropractic Association. He has a special interest in the treatment of temporomandibular joint disorders (TMD) and related spinal conditions. In 2021 he completed a mini-residency in TMD and orofacial pain at the University of Kentucky College of Dentistry. Some of his post-graduate coursework also includes training by the Spine Research Institute of San Diego focusing on traumatic injuries associated with whiplash.
EXPLORE OUR SERVICES
Outside the Practice
When he is not busy at Naturally Chiropractic, Dr. McCutcheon dedicates his time to his family. He enjoys reading, golfing, running, and physical exercise in general.
---
Dr. Gavin McCutcheon | (904) 683-9698